Skola – Premium Moodle LMS Theme
Introducing Skola Premium LMS Theme & Builder for Moodle Create powerful and interactive e-learning sites with Skola – the most complete multipurpose Moodle LMS theme. With over 73 uniquely designed pages throughout the LMS, Skola is the perfect design asset to elevate your digital e-learning content to the next level. Engage powerfully with your students…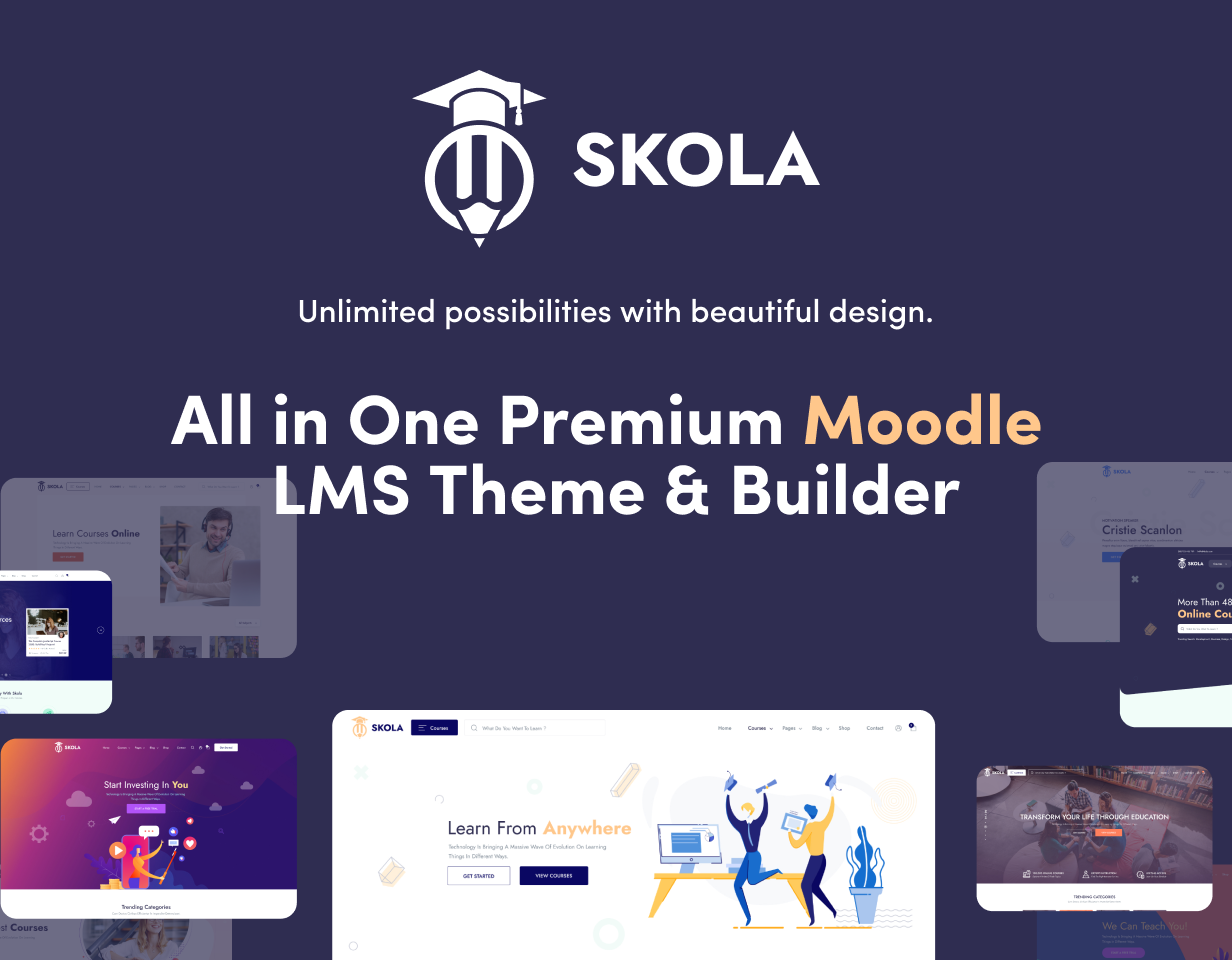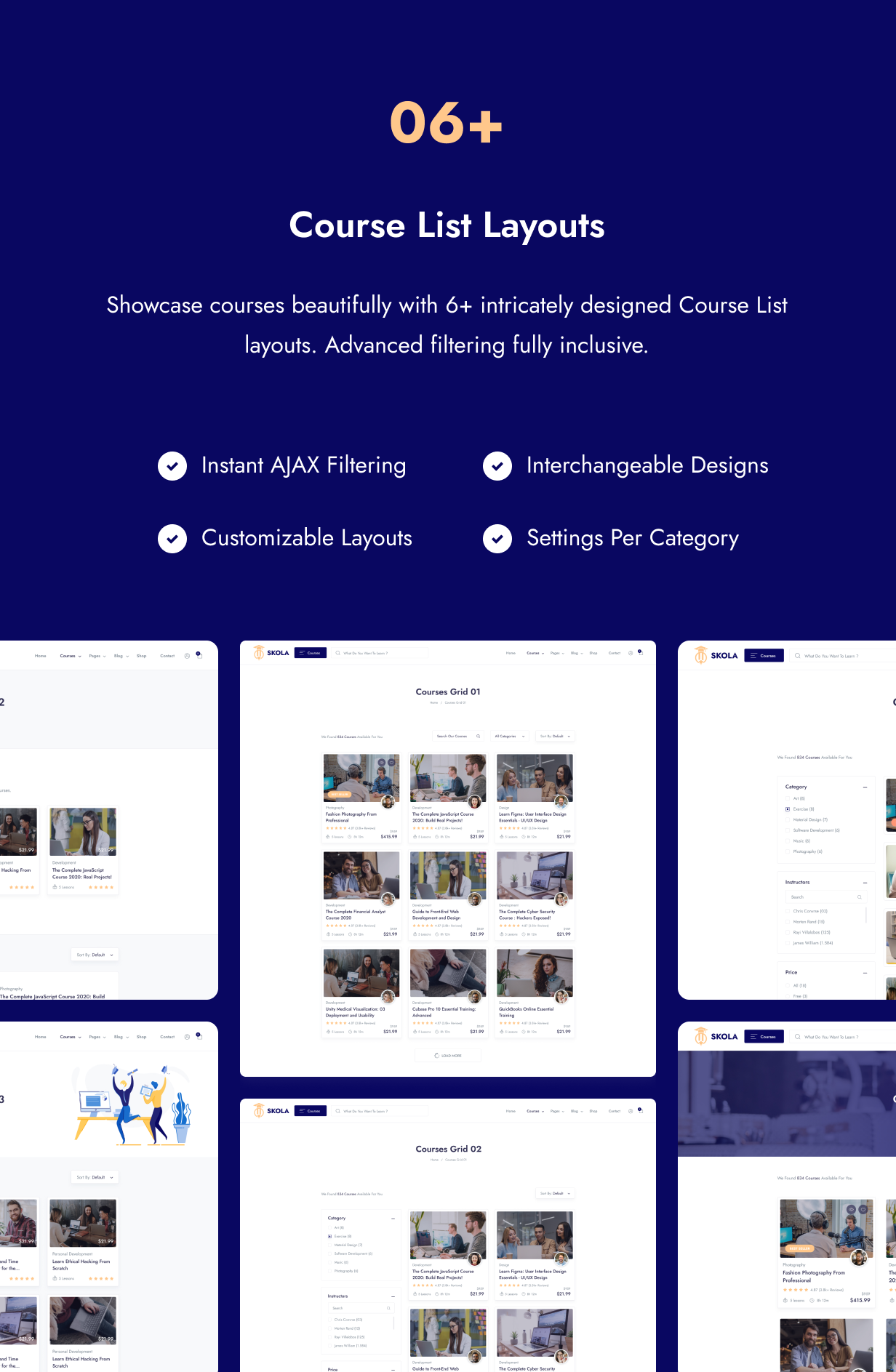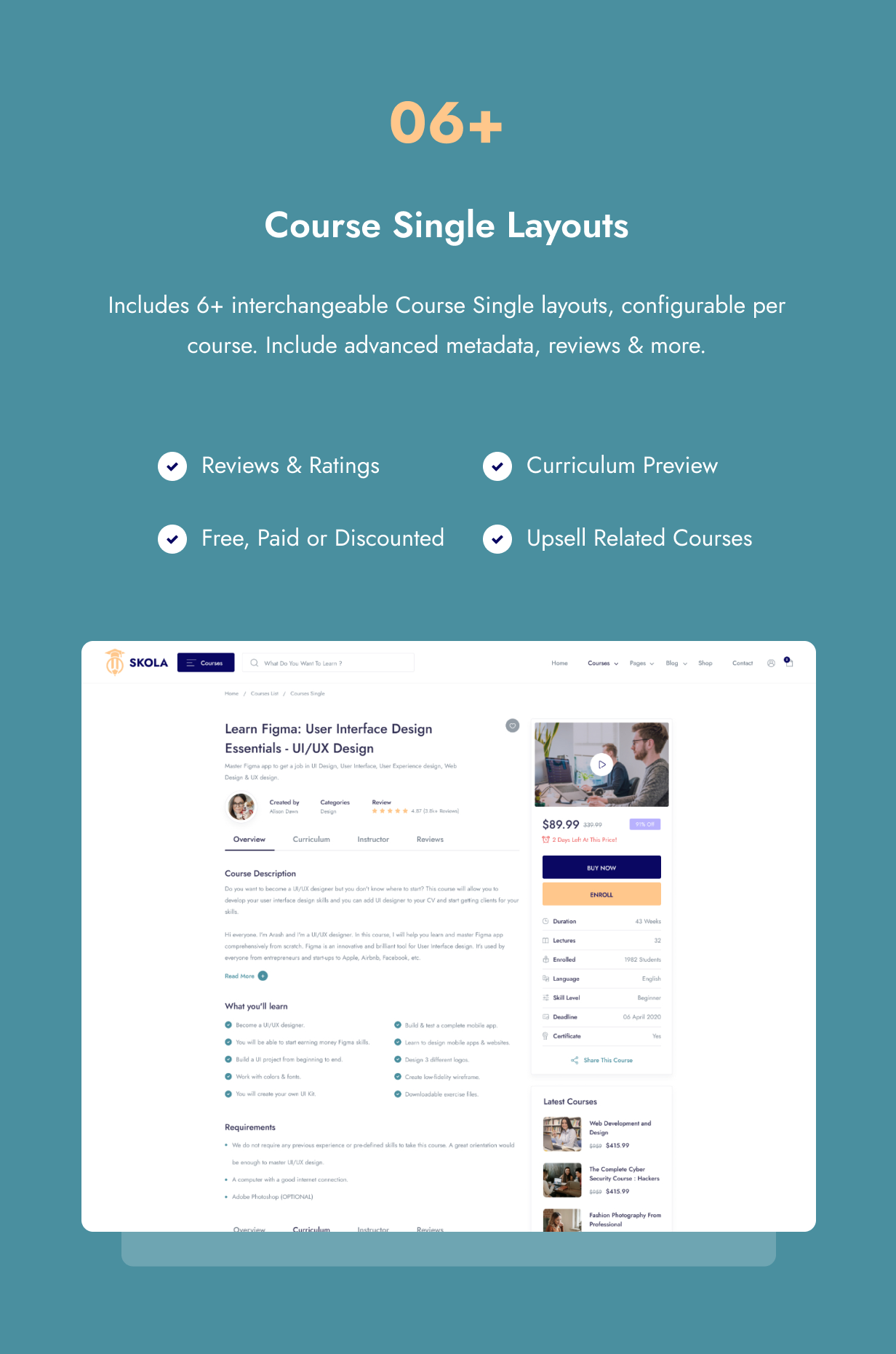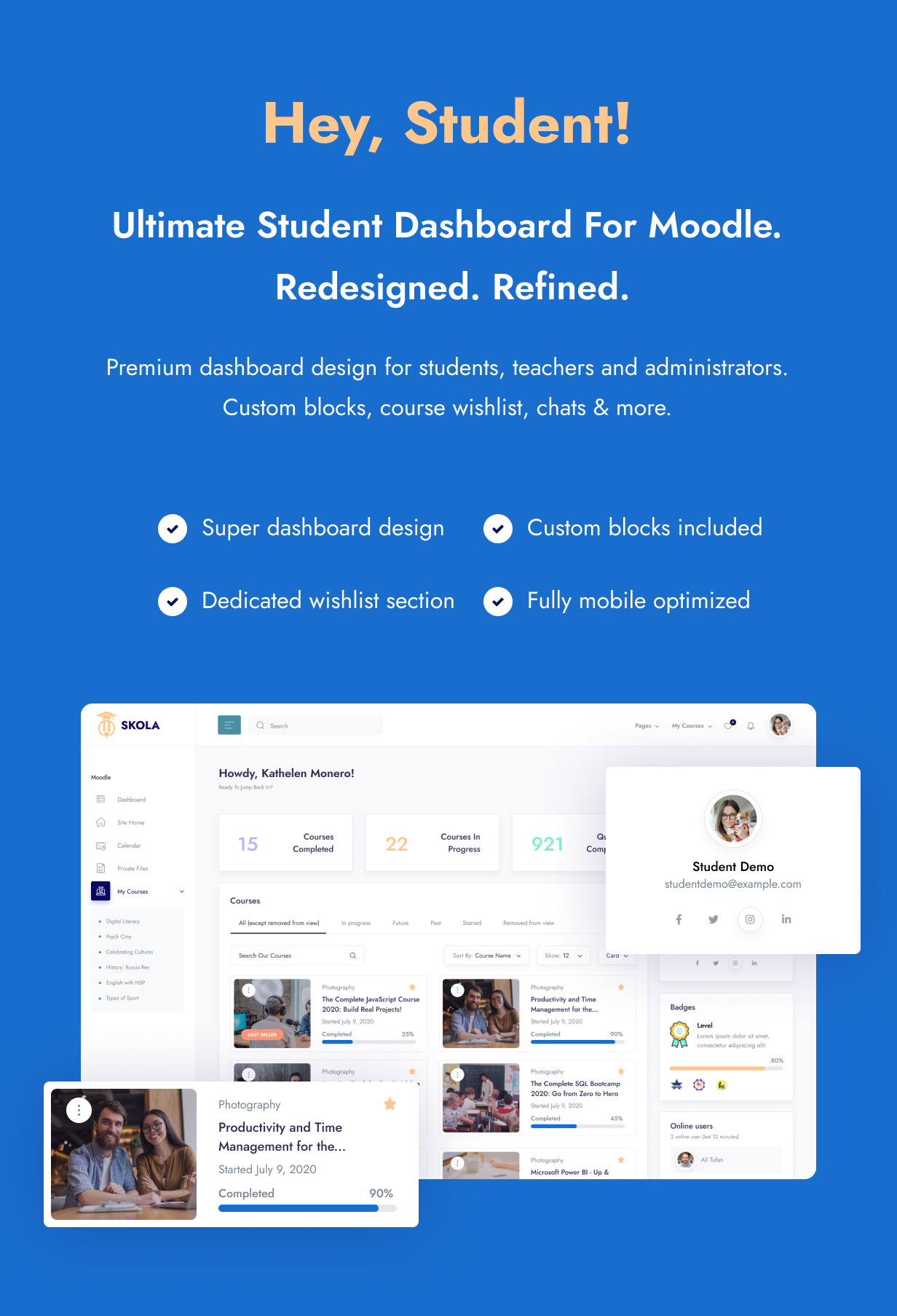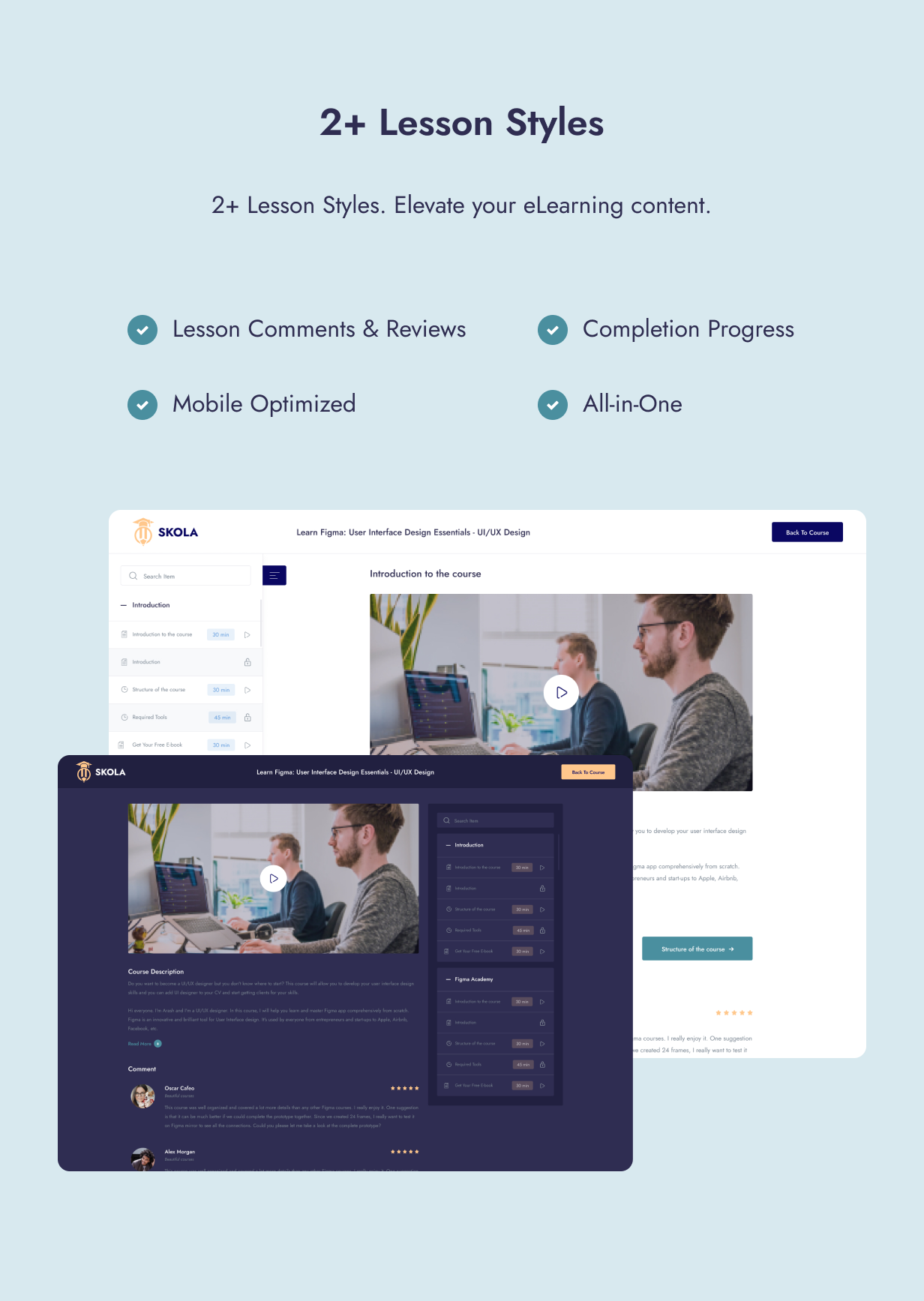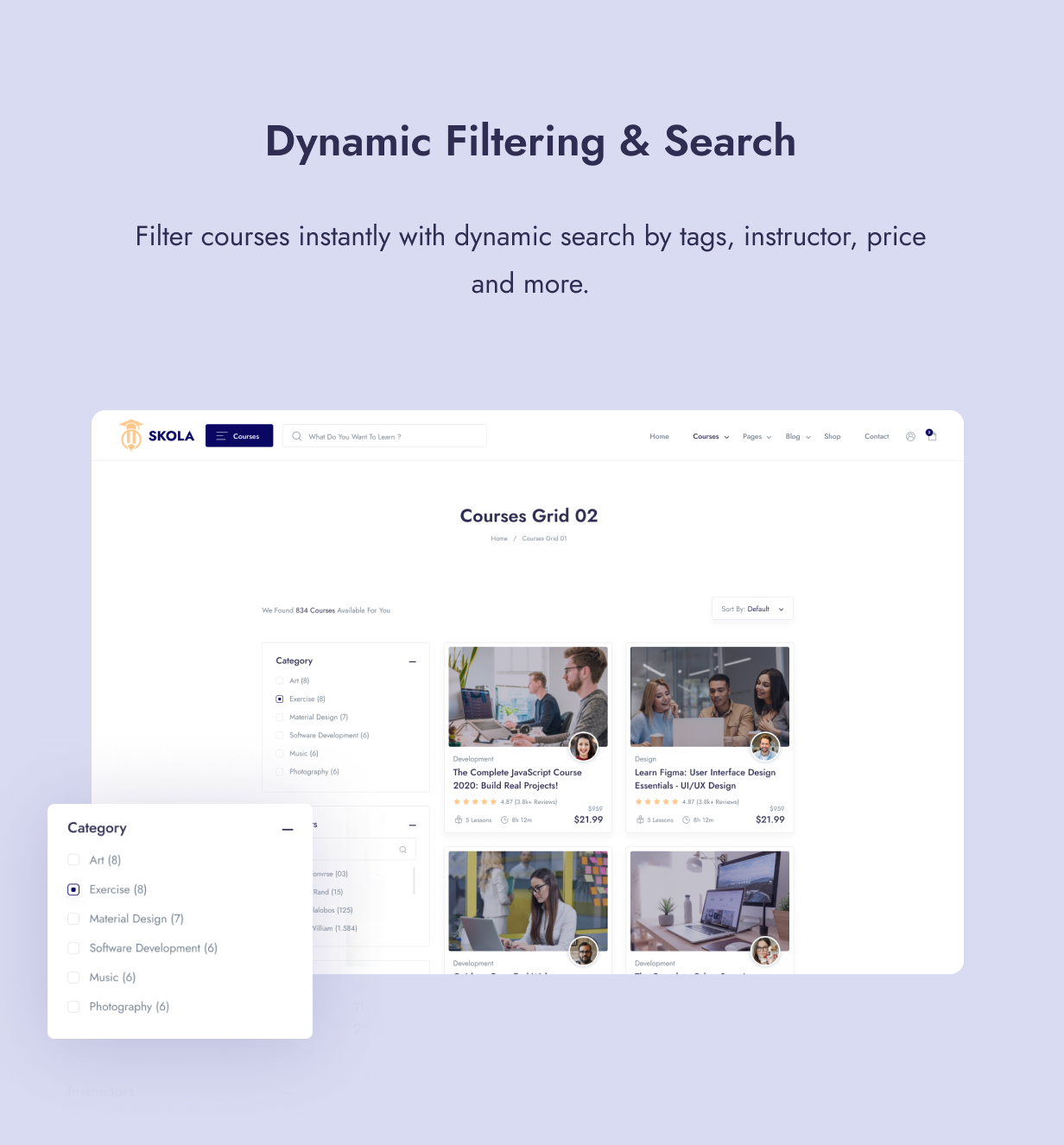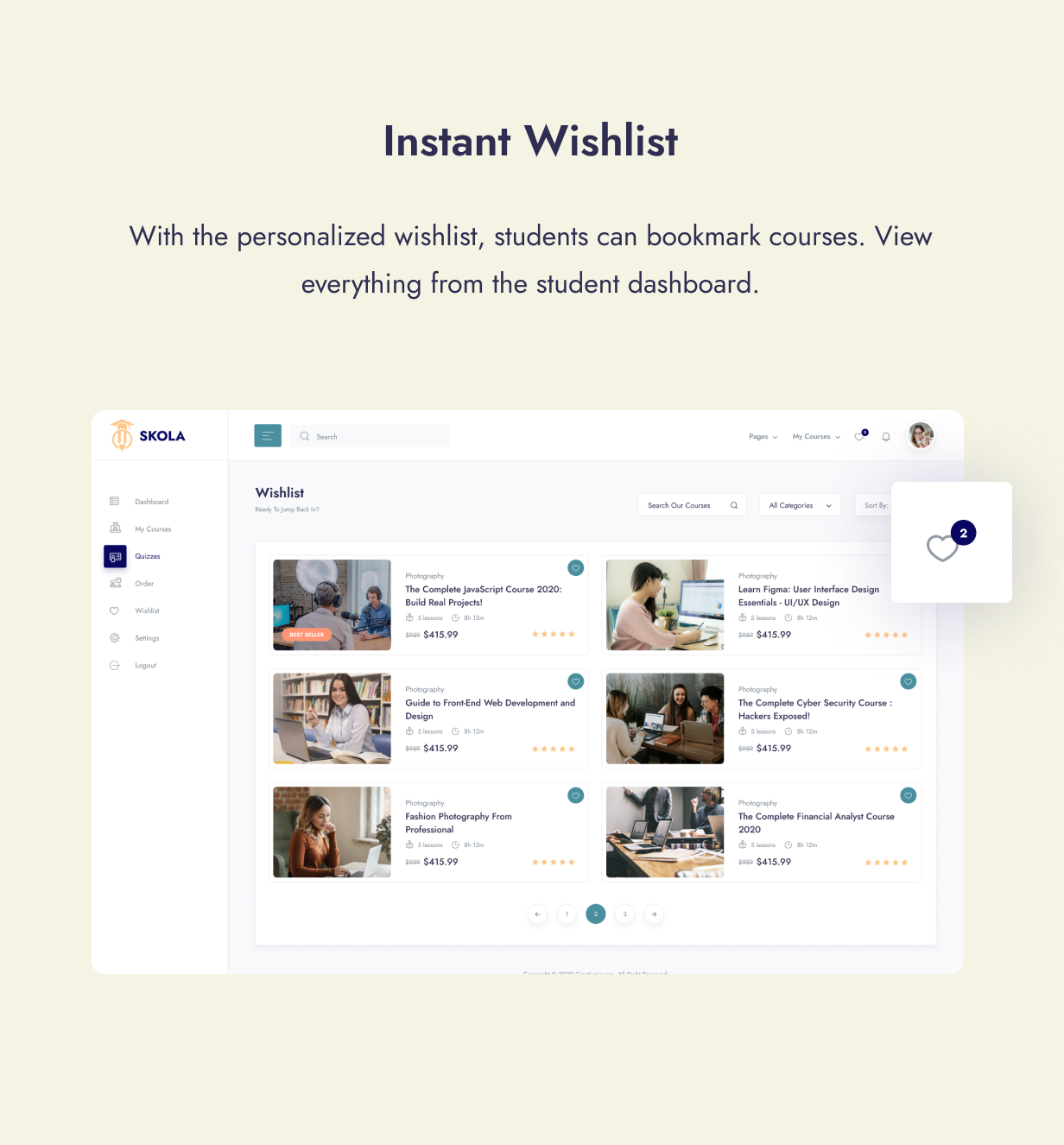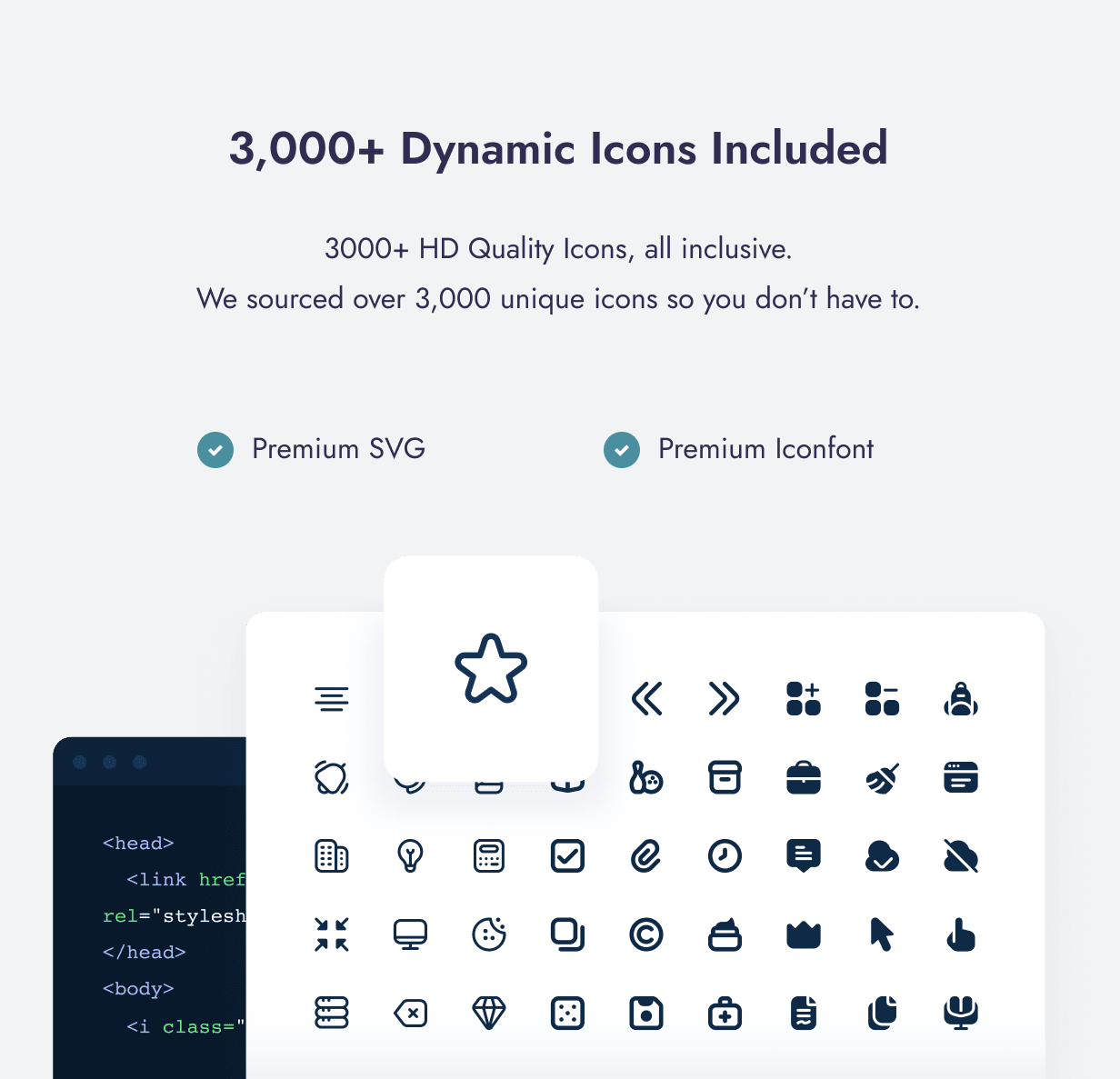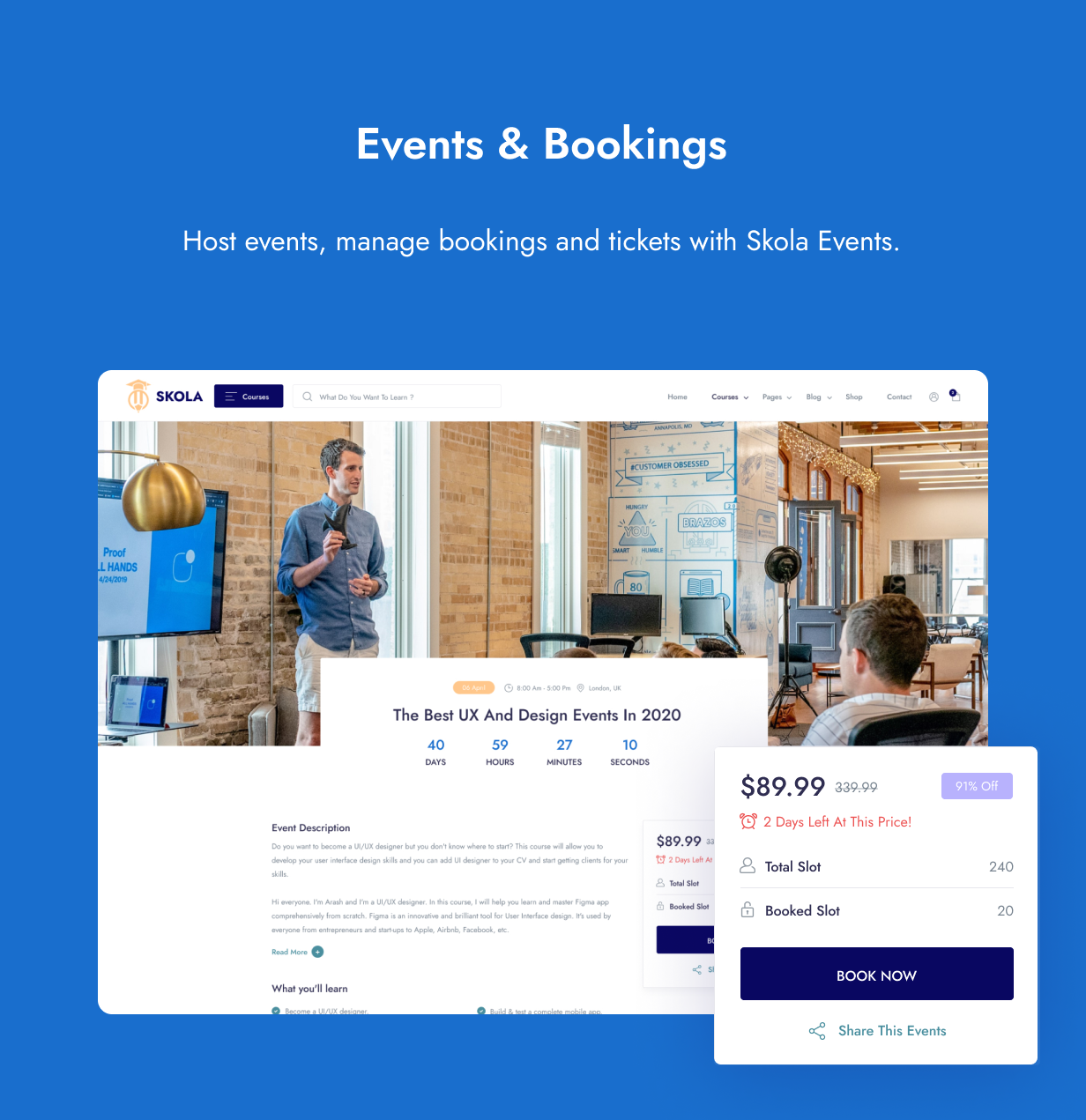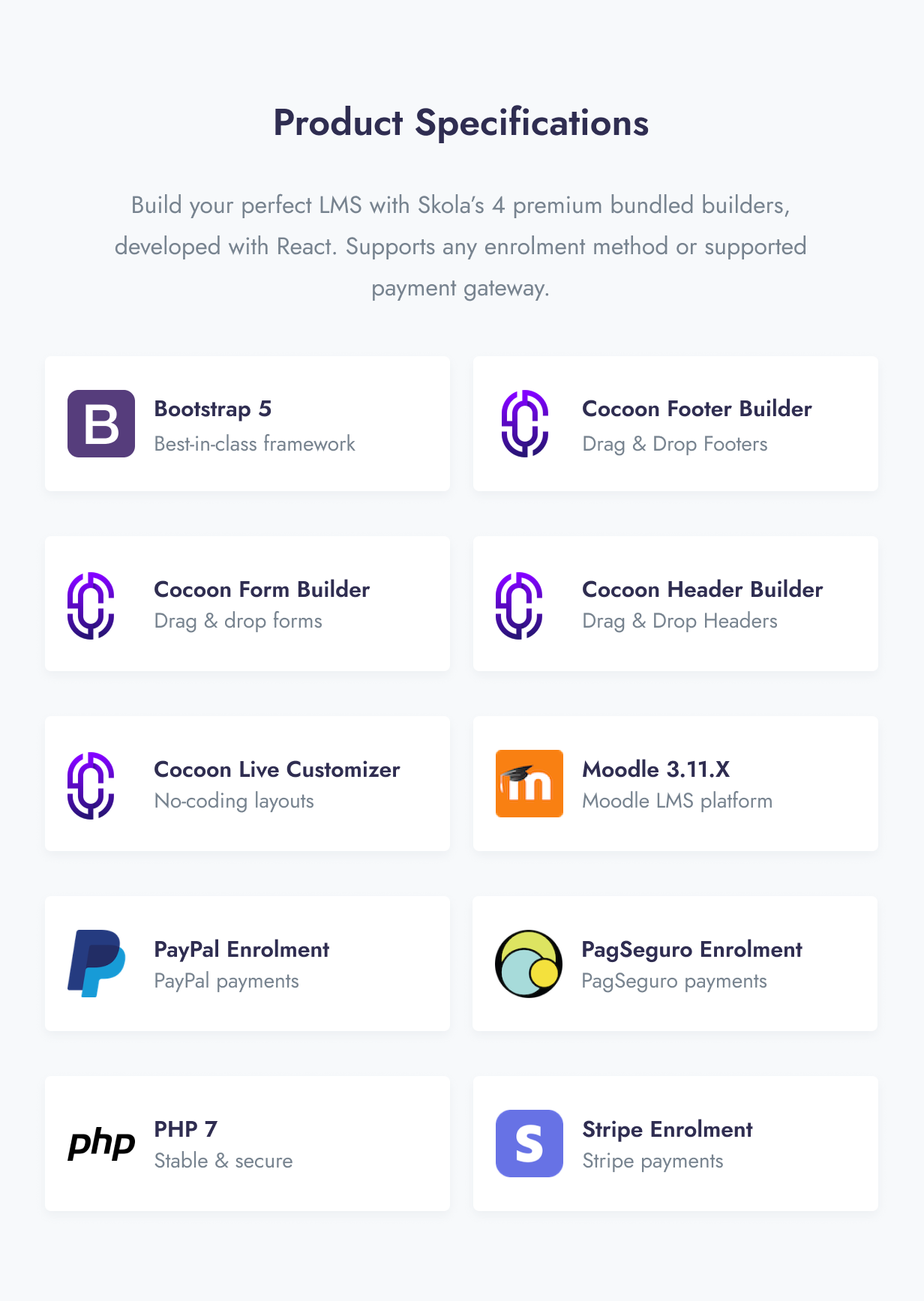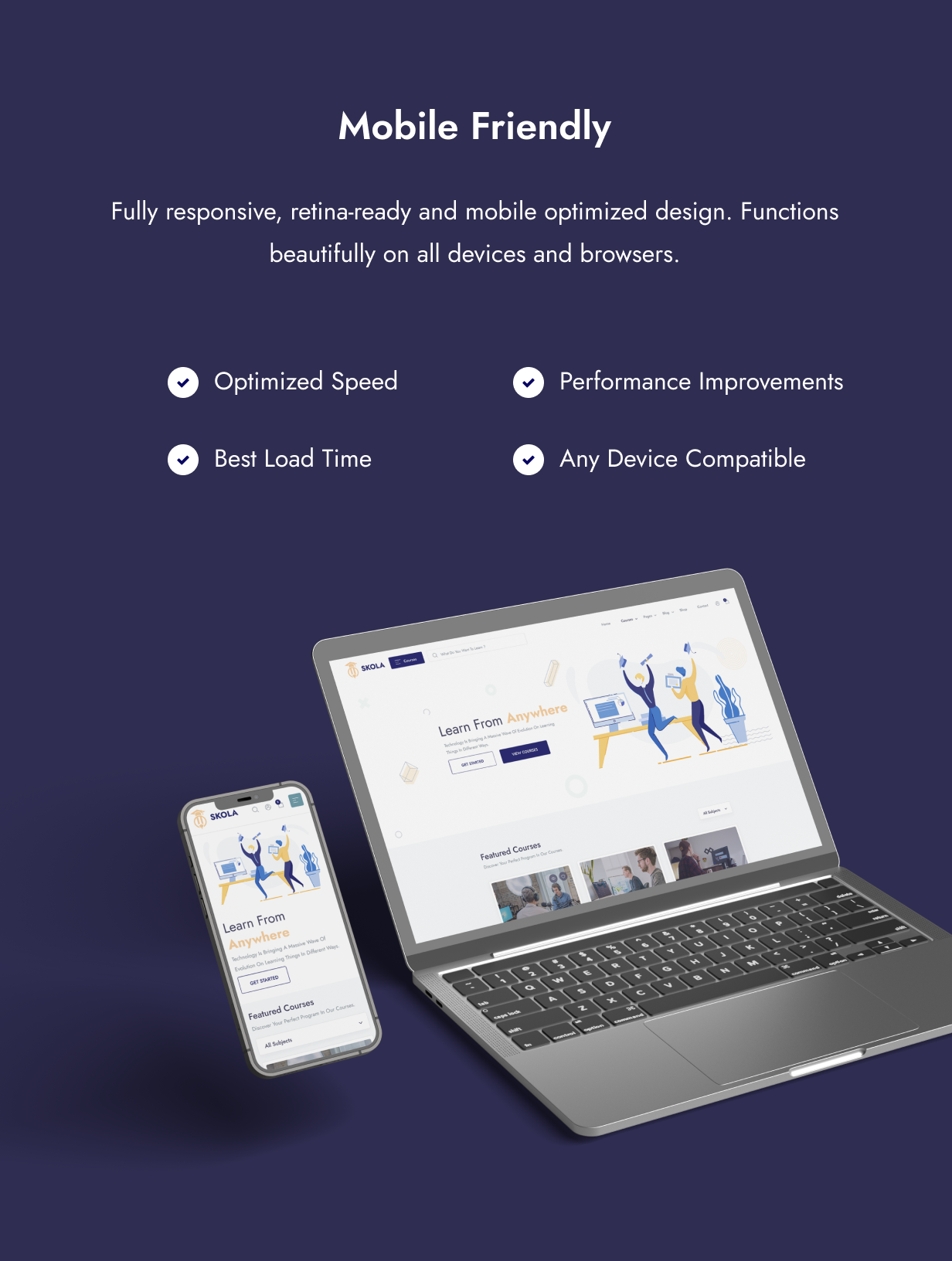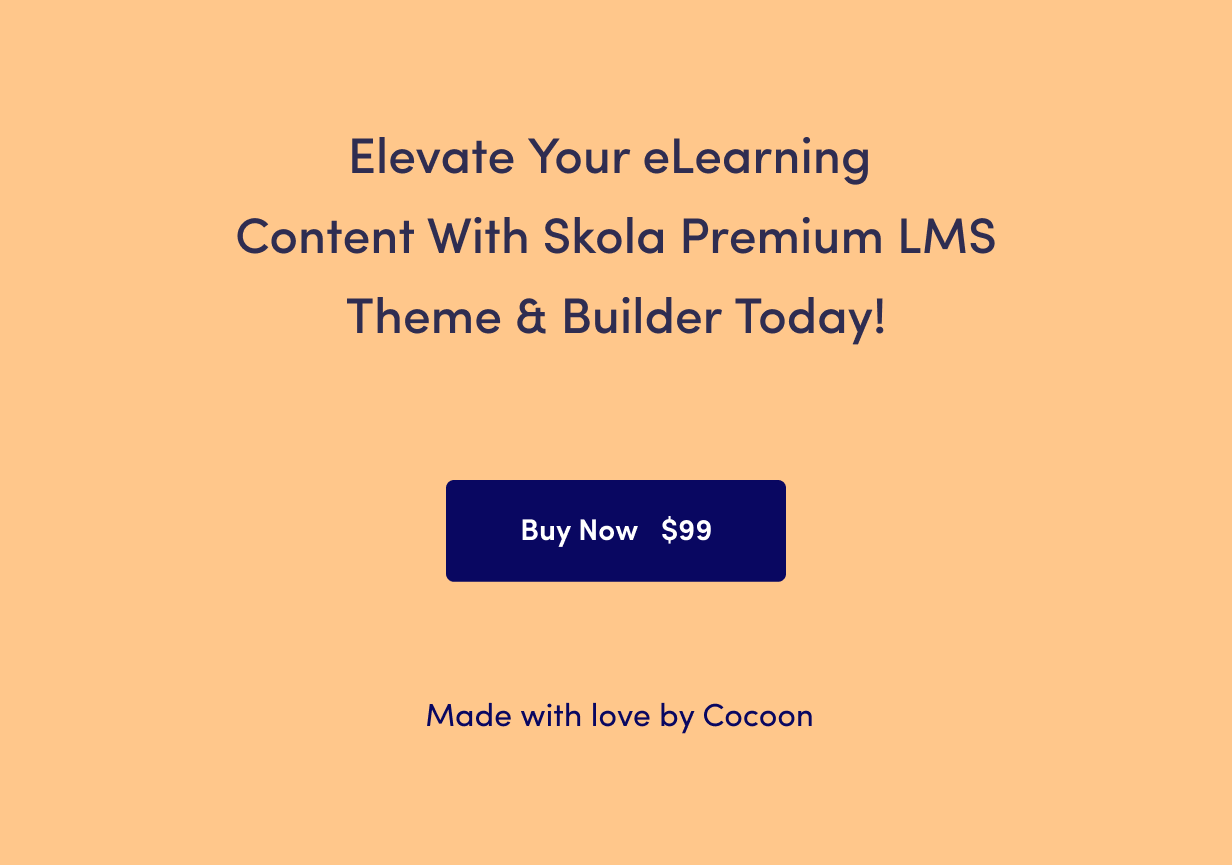 Introducing Skola Premium LMS Theme & Builder for Moodle
Create powerful and interactive e-learning sites with Skola – the most complete multipurpose Moodle LMS theme.
With over 73 uniquely designed pages throughout the LMS, Skola is the perfect design asset to elevate your digital e-learning content to the next level. Engage powerfully with your students and deliver an experience that they'll enjoy.
Skola is perfect for all kinds of educational institutions, including: LMS Learning Management Systems, Online Courses, Remote Schooling, Digital Academies, Training Hubs, College & University Education, Multi-device E-learning, and more.
With 15 unique homepage designs, 6 course listing pages, and 5 single course layouts, Skola is able to deliver all kinds of online courses and remote lessons in a modern and attractive format with Moodle.
Clean lines, soft colors, and fluid UX will surely create an online learning experience that your students will love. Create a content-rich and exciting LMS platform with Skola – The most complete Moodle LMS theme for online courses and e-learning schools
Online Documentation
Custom Dashboard
Skola's fluid dashboard design is innovative and modern, providing students a place to engage quickly with their courses and manage their progress. Multiple dashboard pages and settings layouts included.
Lesson Types
The theme features 2 inner-course lesson layouts for interactive video content and student feedback, and designs for assignments, dictionaries, surveys, forums, quizzes and more. Skola allows you to create lessons that will make a truly positive impact on your students!
Other Pages
Including 15+ preset homepages variations (fully customizable), 5 blog designs (4 listings, 1 single) and 13 course layouts (6 listings, 5 single, 2 inner lesson), Skola is the most complete LMS and online education template for creating powerful learning websites for your online school, training academy, or learning management system.
Key Features
Built for Moodle 3.11+
Based on Bootstrap 5
Creative and highly unique designs
Drag & Drop Live Customizer to build completely unique pages, layouts and designs in Moodle
Drag & Drop Header Builder to create completely custom header layouts for Moodle, including 15 preset variations to get you started
Drag & Drop Footer Builder to design complex, attractive footer layouts that provide rich information for your students
Drag & Drop Form Builder to create feature-rich webforms, including auto-reply functionality and pre-built templates to get you started
Changelog

# January 11 2022 - 1.0.5
- Fixes for Content Bank, performance enhancements

# January 7 2022 - 1.0.4
- Added Layout tab in Theme Settings, option for course administration pages layout

# January 7 2022 - 1.0.3
- Bug fixes: Live Customizer (media upload), user menus, header, misc.

# January 4 2022 - 1.0.2
- Bug fixes: CSS adjustments & improvements, header bar responsive

# December 28 2021 - 1.0.1
- Bug fixes: language strings, language switcher, theme settings, header/footer adjustments

Skola – Premium Moodle LMS Theme
This is another huge plugin!


moodle academy, college, courses, dashboard, education, elearning, kindergarden, lms, moodle, online course, online education, school, teaching, training, university
Skola – Premium Moodle LMS Theme